Desktop Computers
We provide a standard, managed desktop computer and a 24" monitor for every employee at the faculty.
Hardware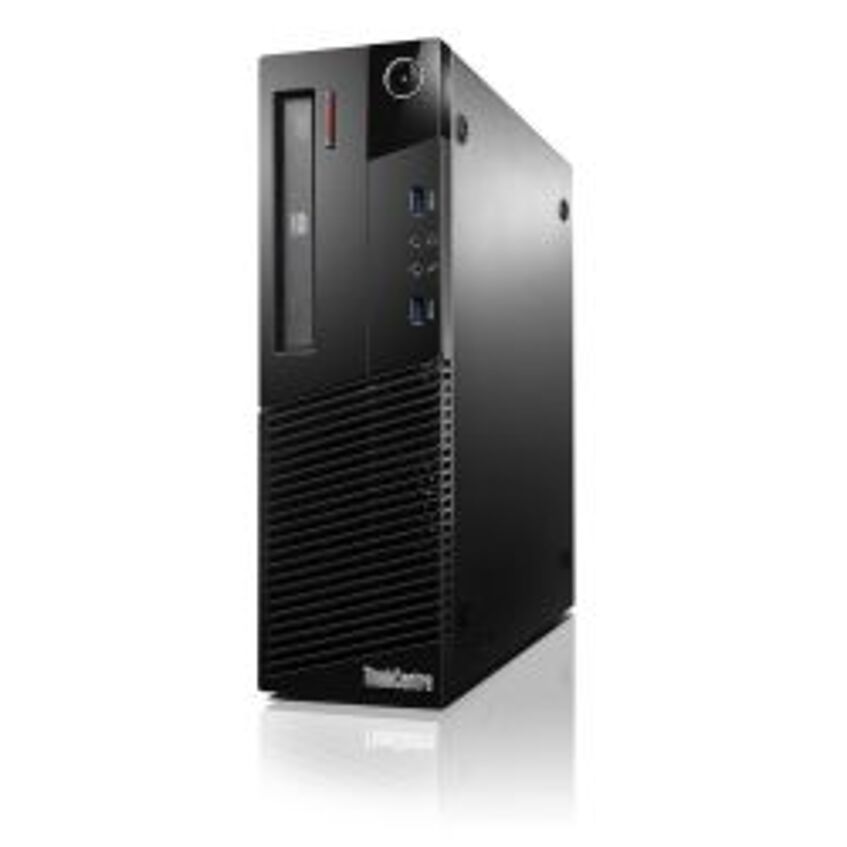 Hardware
The standard computer is a Lenovo M83 with the following specification:
Intel Core i5 4670S 4x 3.10GHz
8GB DDR3 1600MHz
120GB SSD
DVD Multi Burner
The hard drive size is sufficient because it only contains the operating system and applications. All user data is stored on the storage.
Important
Don't unplug your computer!
The power and network cables of all computers provided by the Mathematics IT services (whether they are managed or unmanaged) must always be connected for maintenance and security reasons.
If you're not using your computer in the night (e.g. to run computations), turn it off to save energy (also the monitor).
Operating System
The used operating system is Ubuntu Linux 16.04 (Xenial Xerus) and the available desktop environments are XFCE or alternatively KDE. To log in use your math:account.
For users new to the Linux operating system we recommend using XFCE since it has a very clean and minimalistic user interface that can be learned fast.
If you regularly have to use a software product for your work that isn't available for Linux please contact the math:helpdesk. Only (!) in this case, we might install Windows on your computer. For more information on managed Windows systems see the Windows page.
Software
All of the usual applications like Firefox, Chrome, Thunderbird, LibreOffice, GIMP, LaTeX (TeXLive) and standard open source mathematical software like Python with numpy/scipy, octave, gnuplot, ... are installed by default.
Commercial applications like Mathematica and Matlab are also available and can be ordered through the University's software shop - see the software ordering page for more information.
The keyboard layout (English, German, ...) can be selected on the login screen. The default desktop language is English. For most applications you can switch the language via the System Settings application. One important exception is LibreOffice: Official University spreadsheets that include macros (e.g. vacation or working hours forms) only work with the German version. From the menu please choose Tools -> Options -> Language settings -> Languages and at least set the document language appropriately.
Support
All faculty computers are installed and maintained by the us. If you need help, please first check the instructions on this website (also the FAQ). If you need further support, contact the math:helpdesk, with the hostname or the MAC address (the number on the sticker on the computer) of your computer in it. In urgent cases call 50685.
Self Installations
If you wish, you can install your computer by yourself, but in this case we are not supporting it anymore. There are instructions on this website on how to attach the computer to the network/WLAN, to print, or to use any other service the math:IT services offer (calendar, storage, homepage, TimeMachine backup, ...).
See the information page for unmanaged devices for more information!